haha this kinda reminds of The Croods where the family is hunting for eggs. The pose itself is a fairly static and this is a situation that calls for dynamics. The position of the left hand is a tad awkward. There are some fore shortening issues like her right thigh and her left leg depending on placement. Her pose also looks awkward because she is twisted left while her right leg is up. Its not a natural position because humans raise the left arm and twist their torso to the right as the right leg comes up. Her torso is a little short. I posted a mere pose suggestion. mine has it's own anatomical issues as well. Good work though.
[img]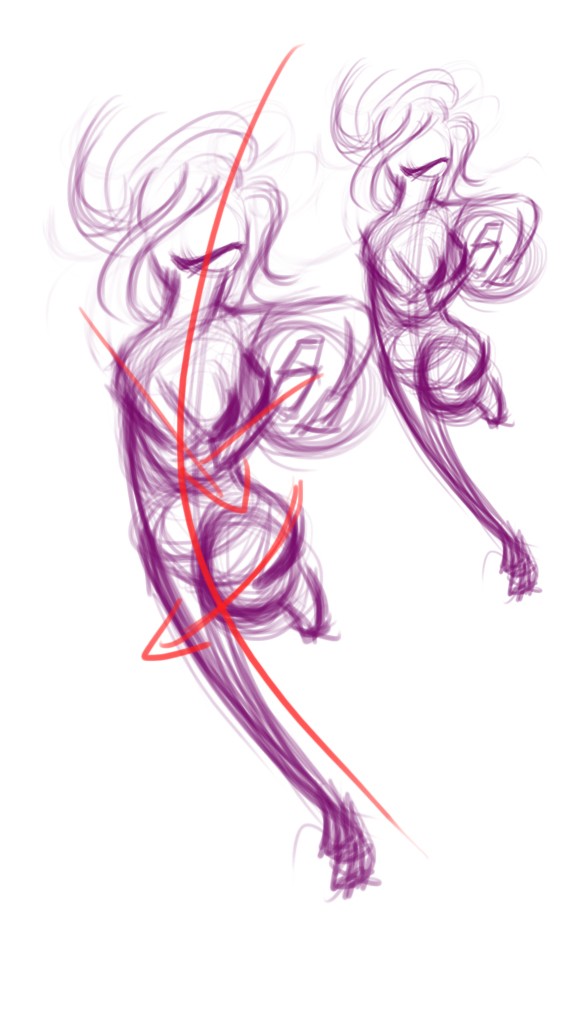 [/img]
Keep'n it reel




Posts

: 20


Join date

: 2013-03-14



oh hey. thats kinda like a quarter back running with the ball... makes sense. the way the head turns i might mess with but i do like this pose.
haha yes indeed, the cliche snapshot pose XD
in retrospect looking at the pose I did, I can see that I needed to lower the neck along with the head and fore shorten them based on the angle of the back haha
Keep'n it reel




Posts

: 20


Join date

: 2013-03-14



Different poses will tell a completely different story. I like Tyrone's personally (head angle aside), but I don't know enough of the character's personality to tell.

Head turned sideways/backward = startled, somewhat panicked

Head forward = leaning their weight forward to run faster... focused and relatively calm.

Head tilted backward but faced forward = panicked and not even wanting to see how far whatever-it-is is behind them.

Of course there are plenty of others between those, but just something to consider.
Intern




Posts

: 8


Join date

: 2013-05-06



The third expression is what i was going for, a pure fear induced adrenaline run.

---
Permissions in this forum:
You
cannot
reply to topics in this forum